Once again Archery Guyana's collaboration with the Ministry of Indigenous People's Affairs concluded with a very successful archery competition at this year's Indigenous Heritage Games at the Everest Cricket Club Ground.
Though there was a little less participation in the competition, there was a lot more interest from patrons after the end of each day's competition. There was an overall total participation of 53 competitors, most of whom were in the men's division; 35 for the Men's Division, 10 for the Ladies Division, 3 for the Youth Male 12-17, 2 for the girls Under 12 Division, and 3 for the boys Under 12 Division.
Saturday's Qualifying Rounds began with 3 Toshaos (Joel Fredericks, Colin Adrian and Lennox Shuman) loosing the first arrows to start off the competition. 13 men eventually made it to the Semi-finals, while 3 ladies, 3 Youth Males and 3 Under 12 children made it to the finals.
The 13 qualifying men through to Semi-finals were: Ivor Williams, Joel Fredericks, Lennox Shuman, Colin Adrian, David Henry, Winston Baird, Roy Shuman, Nyron Pearson, Calisto Martin, Deon Andrews, Horacio Barboza, Oswald Hussein, and Shawn Raphael. The 3 Ladies through to finals were: Brenette Gordon, Aliyah Gordon and Samantha Paulino. In the Youth Male Division the 3 boys through to the finals were: Joshua Sandwell, Keon Kattow and Michael Hing and the 3 for the Under12 Division were: Paige Fernandes, Dolphlundren Shuman and James Marco.
Sunday's exciting Semi-finals and Finals began with the first arrows being loosed by Sports Minister Dr George Norton and Junior Minister within the Ministry of Indigenous People's Affairs Valerie Garrido-Lowe.
For the Men's and Ladies finals, targets were set at 3 different distances (10, 15 & 25m). After which each archer had to shoot at 3 moving targets rolled along the ground. The 3 Men's Finalists were Ivor Williams of Moruka, Region 1 (29pts), Winston Baird of Campbelltown, Region 8 (23pts) and Horacio Barboza of Intac, Region 8 (17pts).  Only Ivor Williams was able to hit the moving target, drawing loud applause from the crowd.
The Ladies saw mother and daughter Brenette and Aliyah Gordon of West Demerara, Region 4, vying for the top spot, as Samantha Paulino of St Ignatius Village, Region 9 was unable to compete in the finals, which automatically earned her 3rd place with 0 points, while Aliyah Gordon came out on top with 8 points and Brenette Gordon 1 point to gain second place. Aliyah Gordon also won in her division last year.  The Youth Males 12-17 was hotly contested by Joshua Sandwell of Pakuri, Region 4 who earned 1st place (7pts), and Michael Hing of Georgetown, region 4 (4pts) who gained second while Keon Kattow of Pakuri, Region 4 (0 pts) came in third.
The Children (under 12) shot at 15m distance only. Dolphlundren Shuman of Pakuri, Region 4 gained an automatic 3rd place, as only James Marco and Paige Fernandes were present to contest the U12 title. Paige Fernandes of Georgetown, Region 4 gained 16 points to win 1st place while James Marco came in 2nd with 1 point.
Archery Guyana is happy to have been a part of the Indigenous Heritage Games for the third year and looks forward to working with the Ministry in the coming years and in the future development of this most exciting sport.
The 3 Toshaos; Joel Fredericks, Colin Adrian and Lennox Shuman loosing the first arrows to start off the competition.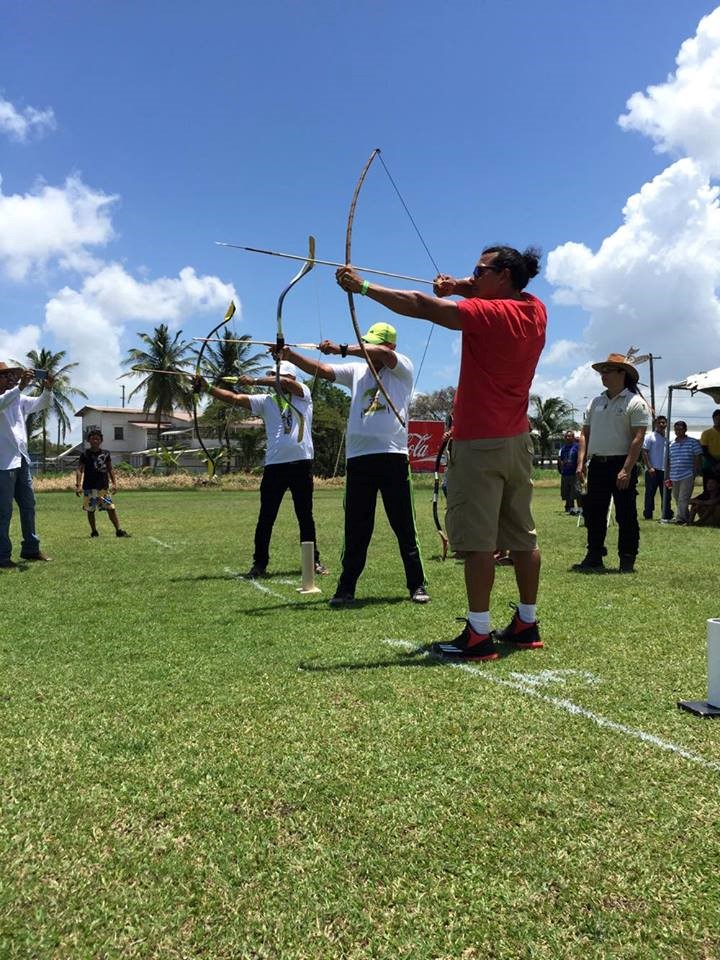 Some of the winners of the Archery competition. From left: Ivor Williams, Michael Hing, Aliyah Gordon, Paige Fernandes, James Marco, Brenette Gordon (behind Marco), Winston Baird and Horacio Barboza.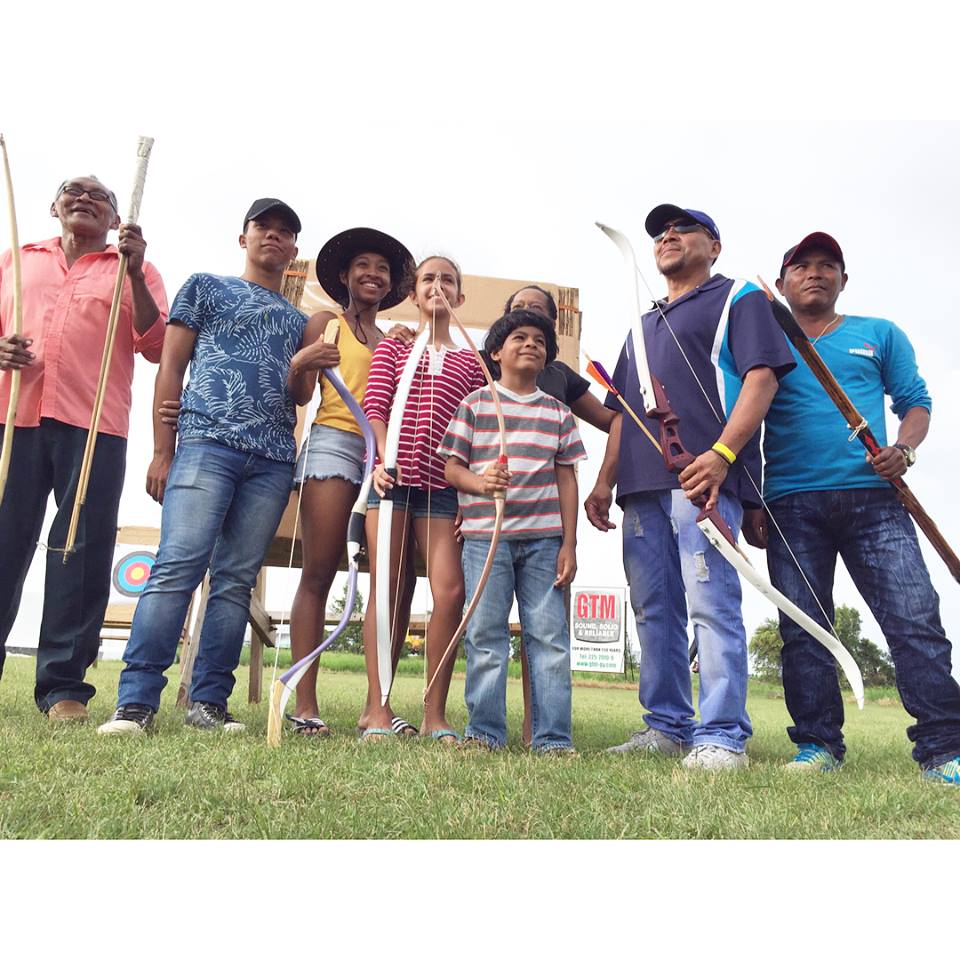 Sports Minister Dr George Norton taking the first shot to start off the finals on Sunday.