Archery Guyana has once again partnered with the Ministry of Indigenous People's Affairs to help to run off their archery competition at this year's Indigenous Heritage Games which will be held at the Everest Cricket Club Ground, Carifesta Avenue and Camp Road.
Hoping to make it even bigger than last year, this year's games will follow a much more traditional format, and the archery competition would also fall into that category, therefore the archers coming from the various regions (both male and female) would bring their own archery equipment, along with what the Ministry and Archery Guyana would also provide.
The competition will also be held closer to the middle of the field to allow spectators in the stands and clubhouse to have a better view of the action, with qualifiers being held on the first day (Saturday, Sept 23 from 11:00 am – 2:00pm) and Semi-finals and finals on the second day (Sunday, Sept 24 from 1:00pm – 3:00pm). World Archery rules will be applied with regards to safety, scoring, etc, with targets set at 3 different distances to be shot at (10, 15 & 25m. Children (under 12) will shoot at 15m distance. Also included this year are moving targets as part of the competition. Small circular targets will be rolled along the ground to be shot at.
The Prize categories are: Adults (male) 18+ / Adults (female) 18+; Youth (male) 12-17 / Youth (female) 12-17
Children-Under 12 (male) / Children-Under 12 (female)
Archery Guyana and the Ministry are advising that members of the public bringing their own bows are allowed no stabilizers, sights or sighting aids on their bows.
The Competition is open to the general public and registration will be done on Saturday morning until 10:30am, after which registrations will be closed off.
Minister Norton preparing to take a shot at last year's Heritage Games archery competition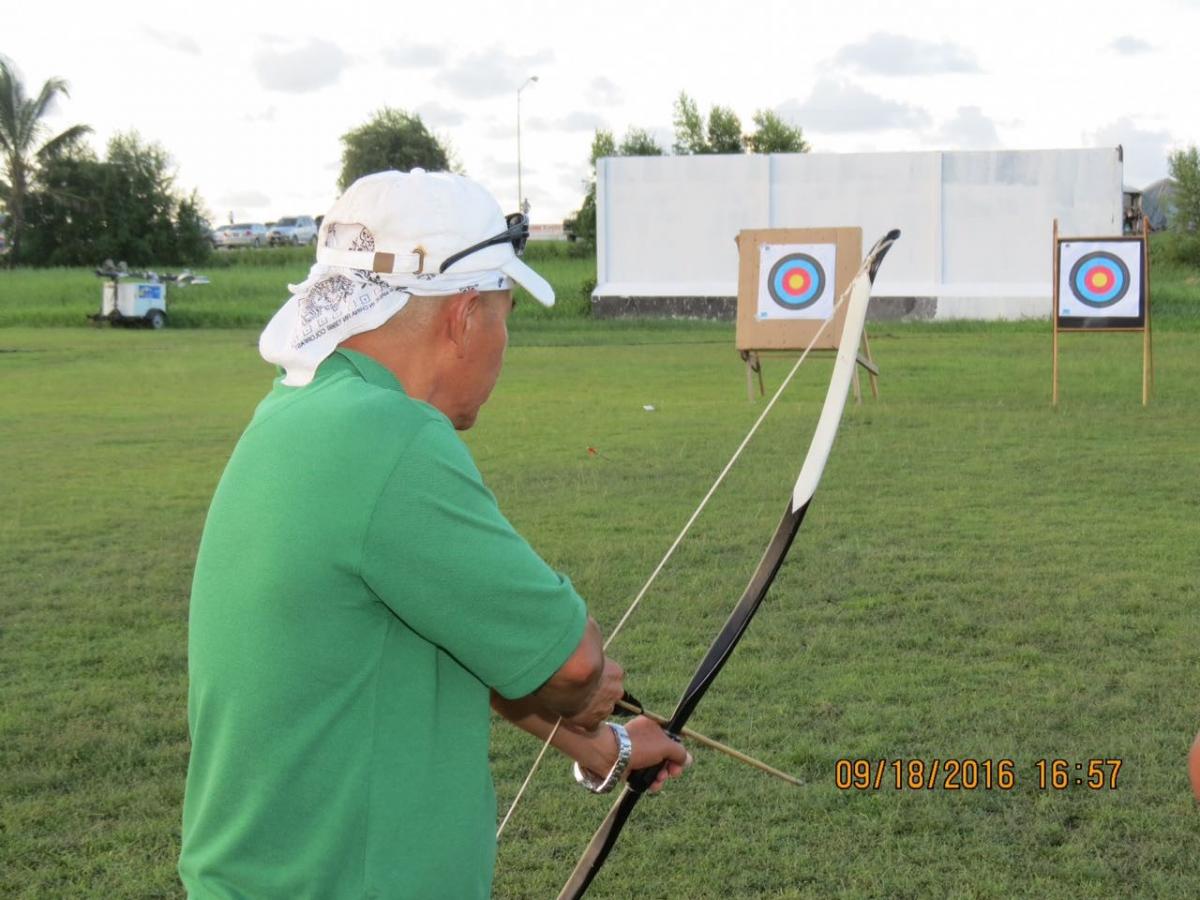 Some of the participants in the Men's category from last year's Heritage Games archery competition