On Friday 31st March, 2017, Archery Guyana received some useful equipment to aid in the Training and Practice Sessions for this discipline.
The presentation was made by Deputy Director Mr. Brian Smith at the NSC's Office on Homestretch Avenue to President Mrs. Vidushi Persaud-McKinnon in the presence of Chairman of the Archery Task Force, Mr. Nicholas Hing, and Directors Dr. Pravesh Harry and Mr. David Dharry.
Archery Guyana wishes to again express gratitude to the National Sports Commission for its pledged and kind support for the National Archery Development Programme. Mr. Hing commented that "this equipment will not only help boost training for our local archers, but will also prevent damage to archery equipment".
The Backstop Safety Net is essential for any archery range to catch arrows that miss the target, hereby preventing lost and/or broken arrows. This particular model presented has metal grommets every 3 feet along the top band for easy hanging and can be mounted between any sturdy upright objects or trees thereby enabling safety for Archery Guyana's Indoor and Outdoor shooting activities.
The 2 donated Bulldog Archery Targets are the recommended ones to stop arrows and built with an extra tough 10" of stopping power to hold up to the blisteringly fast arrows as the local archers develop skills. There is also the easy arrow removal
Archery Guyana is a subsidiary of the Guyana Sport Shooting Foundation and more information can be found on its website: www.GuyanaSportShooting.com.
In picture below, NSC's Deputy Director Mr. Brian Smith unveils the Target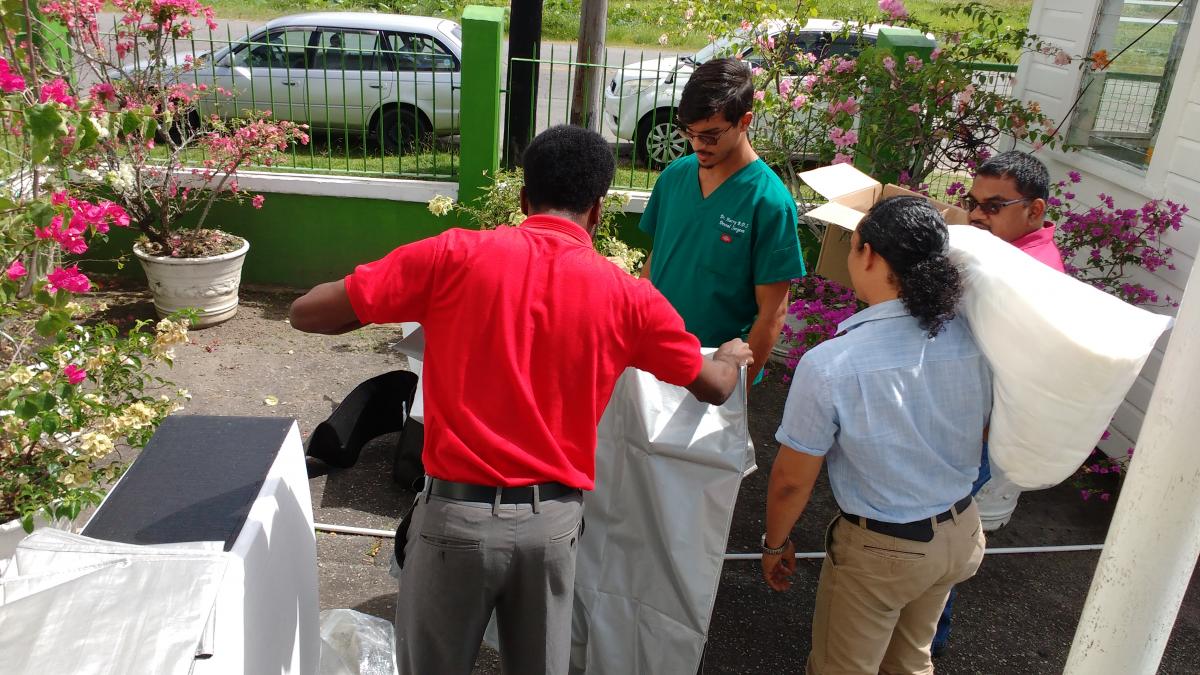 In picture below: NSC's Deputy Director makes the formal presentation to Archery Guyana of the equipment to Mrs. Vidushi Persaud-McKinnon.
From left to right: Mr. David Dharry, Dr. Pravesh Harry and Mr. Nicholas Hing